Features
For an executive
You are the one, who runs the business. It is extremely important for you to have all the necessary information at hand, whenever you require it. Moreover, you want to be able to manage any situation anytime. Quick Resto's primary goal is to assist you in keeping tabs on everything. In order to do so, we have prepared several robust features for you.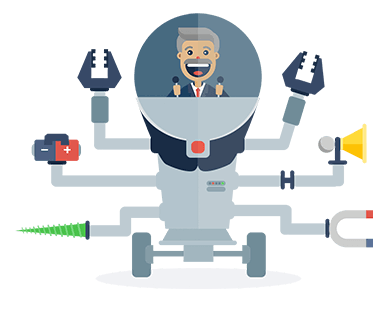 Complete control
You want everything to work your way? So do we! We are happy to help you setting up the workflow of your venues exactly the way you want. Developing a stable business structure increases profit. This is why flexibility and scalability of Quick Resto system is so important – it can fit any structure of business of any scale.
You've got lots of companies, restaurants, warehouses, cooking areas? Manage and monitor them all from one Back Office
Back Office access from any device with Internet connection
Customizable job positions and employee access rights and responsibilities
Video surveillance

Soon!
Quick Resto Manager
Your wingman inside your iPhone, always ready to deliver the most precise information on the key data of your establishments. How many guests are there in some or all of your restaurants right now? Who is serving them? How are the sales compared to last week or last month? Don't leave any questions unanswered – a couple of taps and you get all the information you need. Now you can make adjustments as soon as they are required with this up-to-date information always by your side!
Download Quick Resto Manager app
Choose the required types of data
Have up to the minute information at your disposal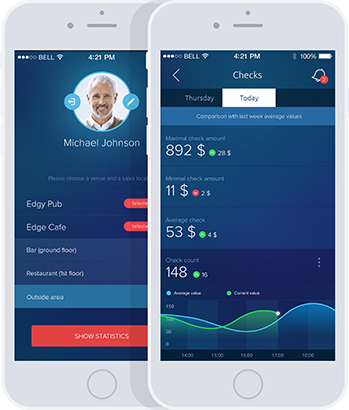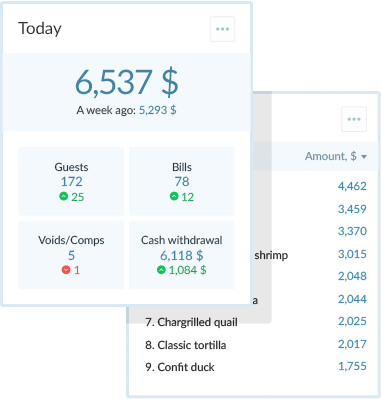 Widgets
Get an instant informative overview of your current business situation every time you enter Back Office. Your fully customizable dashboard gives you an opportunity to
Find out how a venue is doing today or within a period of time
See the best-selling items
Compare your restaurants
Analyze employee activity
Get all the data in real-time
Always be on top of things
Dashboard widgets are designed to allow you to get necessary information on your business and make smart decisions without having to dig deeper into the system
Reports wizard
Apart from standard reports, we have created Reports Wizard, for those, who appreciate truly personalized detailed analysis.
Create informative reports with help of Quick Resto Reports Wizard
Get the data you require, broken down the way you see fit
Save the templates of your reports, and seamlessly get back to them later
Analyze every aspect of your business
Identify and improve the weak spots to see your business grow
Only in PRO version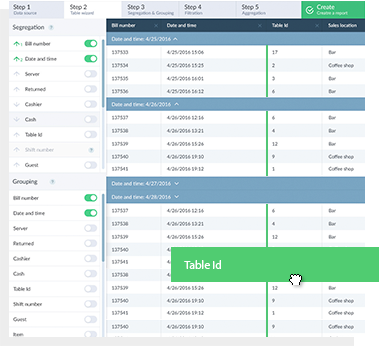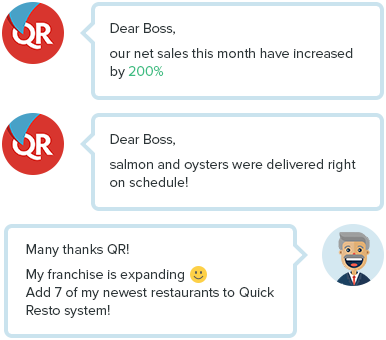 Customizable notifications
Notification center will become your personal assistant, reminding you of important events and inform you of noticeable actions of your staff
Choose the required events (e.g. available stock reaching a limit, withdrawal of cash from register, net sales hitting a certain point)
Set the ways of receiving notifications, that are most suitable for you: per email, text messages on your phone, Quick Resto Manager app, browser notifications, etc.
Keep tabs on everything! Be the first to receive important information
For a marketing specialist
Your job is hard, but very interesting and highly rewarding nonetheless. Thanks to you, a random guest becomes a regular, your guest count constantly increases, and your special offers and new menu make everyone talk about your restaurant. You are highly skilled in attracting new customers and keeping the existing ones. Understanding the importance of what you do, Quick Resto POS offers you a variety of tools to further develop a great relationship between your restaurant and your customers.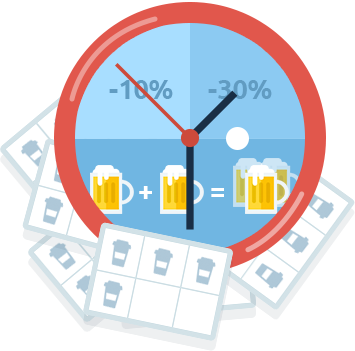 Loyalty programs
Give your guests something impossible to resist, using
Discounts. Percentage and/or scheduled. For a whole menu, or some menu items, applicable in each restaurant, or only at specific sales locations, available to all customers or to certain customer categories.
Bonus points, accumulation accounts, greetings bonuses. Reward your customers for being with you, and they will never leave!
Special offers. Fifth coffee free of charge. Three beers for a price of two. Fries on the house for every burger ordered. You know how it works ;-)
Use advanced Quick Resto CRM features and you are guaranteed to hit higher levels of profit
Customer relationship
Quick Resto POS is created for your customers just as well as for restaurant staff. We always keep in mind the convenience of those, who we work so hard for.
QR Guest and white label apps. Smartphone and tablet applications for your guests. Can be used as a guest cards, store order history, amount of bonus points accumulated, current guest discounts, etc. Let you notify your clients of special offers, customized for each guest specifically. Enables your customers to evaluate and comment on their visits, your menu items and customer service provided to them.
Customer display. Can be placed next to your Quick Resto terminal, to display order details, inform your guests of special offers, or simply to deliver you promotional videos.
Guest cards. A simple and familiar way to identify your customers via magnetic stripes, QR codes or NFC.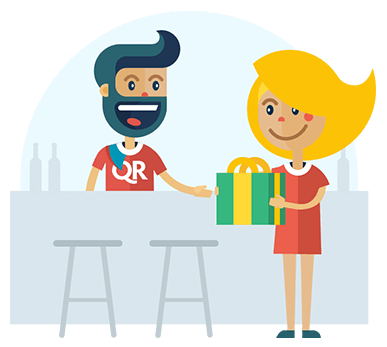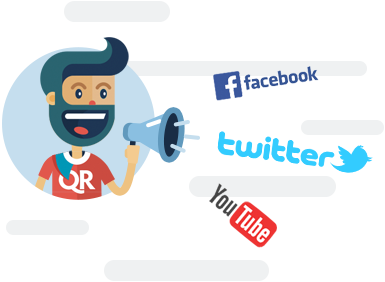 Integration
More features – more customers – higher profit. This is why we integrate with third party applications.
Social networks. Add all of your tweeter followers to your customer database, reward them with discounts and notify them? Done, done and done with Quick Resto POS. It all takes just a couple of minutes.
Quick Resto API. You offer a service, that could be a perfect fit for Quick Resto POS? Our open API is designed for you! We are looking forward to seeing your interesting projects and can help you with integration.
For an accountant
Your work is highly important for any enterprise. Everybody understands, that a business would simply seize to exist without your insight. Keeping in mind different aspects of your work, and the responsibility it implies, we have come up with several sustainable tools, that you will definitely find useful.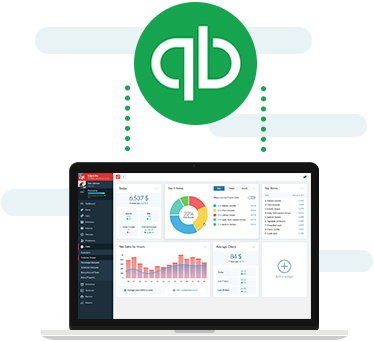 Soon!
Full QuickBooks and DATEV integration
Even if you do not use this software, you are definitely familiar with these world leading accounting applications. To make export/import of accounting documentation completely seamless, we have integrated with these services.
Two-way document exchange, and you will not have to choose one system to work with.
Online export to QuickBooks and DATEV
Support of different versions
Finance management
We've made it possible for you to monitor all of your financial activity in Quick Resto system. With our finance management feature you can instantly find a required document to figure out an origin of any data in question or track your total or specific expenditures and income at any point of time
Create your own or work with preset elements of income and expenditure
Choose a required period of time
Receive financial reports to always keep things in order. Orderly business – profitable business.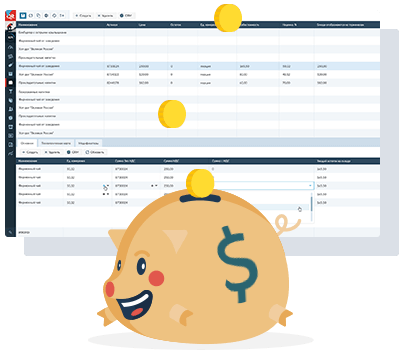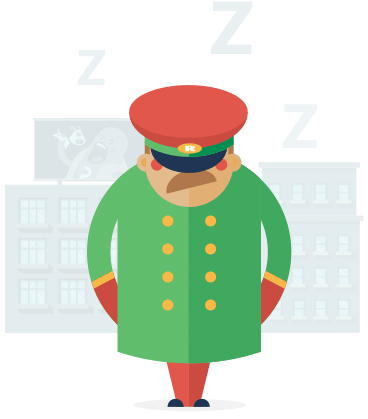 Soon!
Track labor time
Organized and motivated staff is a foundation of your business. This feature allows you to find out, who copes well with their responsibilities, and who needs additional motivation.
Create and modify schedules, that include shifts, time off, vacations for each employee.
Take every detail into account: coming late to work, working overtime, vacations or sick leaves.
Create informative reports on any employee, or certain employee categories.
Only in PRO version
For stock managers
Thanks to your work your restaurant is never out of stock, and the number of write-offs is minimal. Suppliers, cooks, service staff - everyone is fond of you. A huge part of your restaurant's success is a result of the way you manage to do your job. With this understanding we have come up with the most functional and convenient tools for you.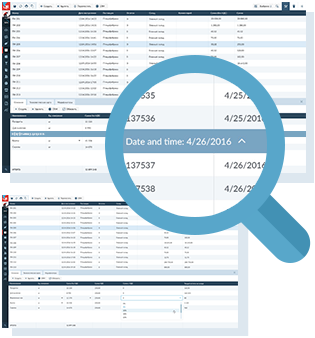 Production and inventory management
Keeping record of all transactions and operations is one of the most important things, that you do at work. Isn't it great, when it's possible to keep the records of any actions in the form, that represents the actual way an action was completed. Two goods receipts can be replaced by one cooking statement and write-offs should have specific documents, rather than being carried out as sales at zero price. You can use:
Goods receipts and issues
Cooking, break down, reprocessing statements
Write-offs and internal movements
Inventory tools
Rest assured, none of the documents will ever get lost, and all the inventory movements will be properly documented to keep things in order.
Item types
There are several item types in Quick Resto system. Using them, while understanding their differences, can help you cope with your work with even greater efficiency. Here are four Quick Resto item classes:
Products – the main content of your menu. Every dish, that you sell is a product.
Semiproducts – pre-cooked items (e.g. dough), that can be further cooked to create products
Modifiers – optional product components (e.g. toppings)
Ingredients – items, that you buy. All of the items mentioned above are cooked out of ingredients.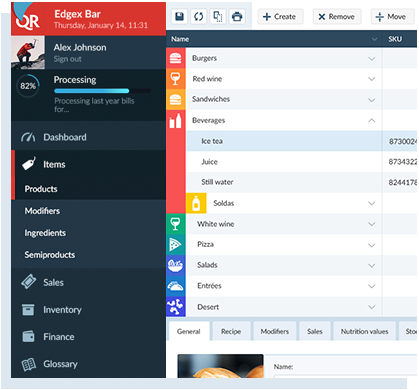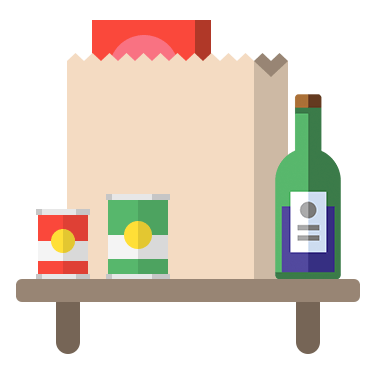 Soon!
Similar goods
Sometimes you and the chef of your restaurant have to use some tricks, like replacing salmon with rainbow trout or broccoli with cauliflower.
All you've got to do is to use the list of possible replacements, in case you suppliers ran out of something you need.
Choose the goods to be purchased
Send a request to a supplier
Replace items of the order with similar goods
For chefs and cooks
Creating culinary masterpieces, that's what you do, and you guests are extremely grateful for that. What you make is the main product in this business. How you make it defines the profit of your restaurant. You are a master of knives and cutting boards, a food cost calculation genius – these features are for you!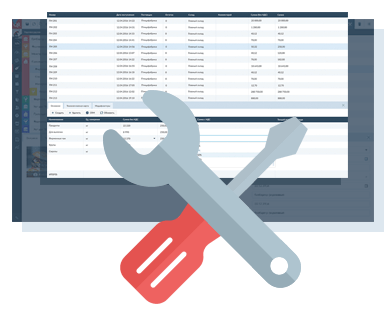 Recipe manager
Even the simplest dish starts with creation of a recipe and food cost calculation. To make your work more efficient and the results even more impressive
Create recipes
Save recipe versions
Use recipes the way you want, depending on season, time of day, or when switching from one recipe to another
Order details
Leave unpleasant situations behind. With Quick Resto there is no room for misunderstanding between kitchen and service. Rely on order specifications, while cooking.
Order commentaries – keep tabs on every detail
Service sequence – you will never get caught by surprise by unusual orders
Modifier – and you are ready for the pickiest customers
Rest assured, synchronized work of the cooks and the waiters will greatly increase the quality of service, which inevitably leads to a raise of guest count and higher profit.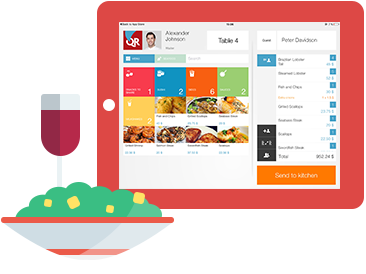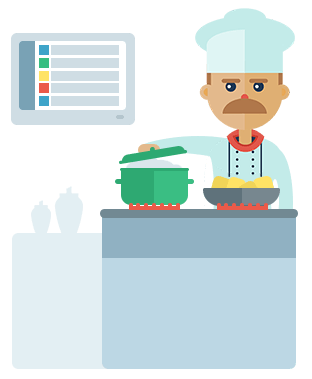 Soon!
Kitchen display
The most advanced tool of kitchen-service communication. There is no need to send tickets to the kitchen anymore. Start using Quick Resto kitchen display and see for yourself how productive and practical it is.
Dish readiness status
Prediction of cooking time
Orders priority
Service-kitchen-service workflow improvement
Quick Resto will prove to you, that new technologies can both be efficient, and easy to use. A simple recipe for success of your restaurants!
For service staff
When a guest leaves a restaurant happy and comes back again the next day simply because the previous visit was amazing, most of the praise should go your way. You set the mood of your guests, your service skills are impeccable, and your hospitality is flawless. Bartenders, servers, hosts - you are a face of the restaurant! Quick Resto is here to help you with your demanding job.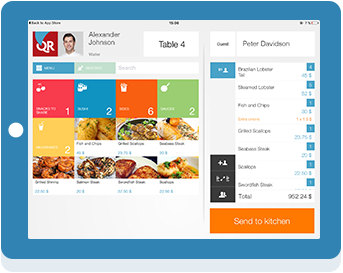 Quick Resto terminal
Your work buddy. Create orders, send them to kitchen, receive payment – fast, user-friendly, intuitive Quick Resto terminal is always there at your disposal.
Order management. Products, modifiers, service sequence and order comments will be your useful tool, helping you send to the kitchen exactly what a guest has ordered.
Table and booking management. No matter the scale of the puzzle, that can occur with bookings and table service, you can easily and quickly solve it with Quick Resto POS. And for restaurants without table service you can always use a Quick Food mode.
Payment methods: cash, card, bonus points. Partial, divided, combined or by redeeming a coupon. All it takes is just a couple of seconds!
Peripheral devices
Sometimes can greatly simplify your work. With Quick Resto they connect to a terminal via a QR Box device, and do not requires any additional setup.
Printers – print kitchen tickets and checks
Digital scales – automatic calculation of the price of a weighed product
Card readers - for working with guest club cards and employee identification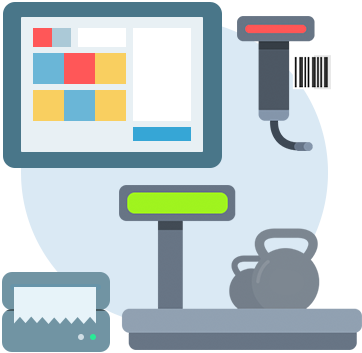 Access rights
Every job position has its access rights and duties. If a server and a cashier have access to the same functions, it is impossible to avoid confusion and sometimes can lead to wrongdoings. In order to prevent that, Quick Resto POS offers a flexible system of access rights
Use preset job positions or create new ones
Specify the range of rights and duties for each job position
Set the access right for each employee